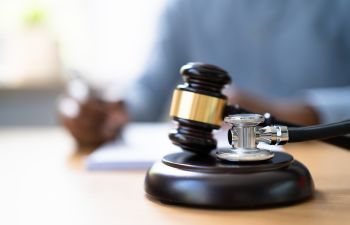 As a patient, you trust your caregiver to make good decisions for you and address your medical needs with attention. In fact, it is your right that they do.
The negligence of a doctor, nurse or another medical practitioner can cause catastrophic or deadly injuries. In law, this is known as medical malpractice.
What is Medical Malpractice?
Medical malpractice happens when a doctor's incompetence creates needless health complications.
Medical malpractice victims can potentially collect compensation for damages, including medical expenses, lost income and earning ability, pain and suffering and more. At Plunkett, Hamilton, Manton & Graves, attorneys help clients get maximum compensation for medical negligence injuries.
What Qualifies as a Medical Malpractice Claim?
If you experienced subpar medical care, you might be wondering if you have a claim.
When assessing if medical malpractice caused your damage, knowing what to look for is vital. Medical malpractice signs include:
A lack of standard diagnostics. Without tests like X-rays, ultrasounds and EKGs, you may not have received adequate care, especially if there is a suspected infection, illness or fracture.
A vague and unthorough diagnosis. Your doctor may not be conducting enough research to appropriately identify your issue if they only request basic lab testing.
A delayed diagnosis. Waiting too long for a diagnosis can be fatal.
Follow-up exclusion: Follow-up tests can be crucial to ensure a correct diagnosis.
Not referring the patient to a specialist for additional care. If your doctor can do nothing more for you but you still need medical attention, he should refer you to a specialist who can help.
Untimely discharge. Being sent home too soon is negligence.
The condition does not improve or worsens. Your diagnosis or treatment plan could be wrong if your injury or illness does not improve or you develop new symptoms. Examples include misinterpreted test results or mistakes during a medical procedure.
Your treatment has severe complications. Abnormal outcomes could indicate an error.
Your treatment plan does not match your ailment. Some medical failures originate from unnecessary or too invasive procedures.
Consent was not given. Your doctor should disclose all risks and dangers before any procedure. Second, you must agree to the terms for the doctor to proceed.
Your doctor is dismissive of your concerns. In this case, a doctor disregards your worries or ignores your symptoms.
Missed, inaccurate or incorrectly dosed medications.
An understaffed medical facility.
This is not a complete list of potential medical malpractice cases. Therefore, if you think you have a claim, please consult Plunkett, Hamilton, Manton & Graves.
Increase Your Chances of Winning a Medical Malpractice Case
Cases involving medical malpractice are more complex to prove than other personal injury claims. Therefore, you should hire a medical malpractice attorney for a better chance of winning.
Our lawyers effectively protect innocent victims from medical malpractice because they know what evidence to evaluate and how to develop a good case. We are the Augusta and Evans, Georgia, Medical Malpractice Lawyers you can trust to get positive results. So, please get in touch with our firm for a free consultation.
Posted on behalf of Plunkett, Hamilton, Manton & Graves, LLP