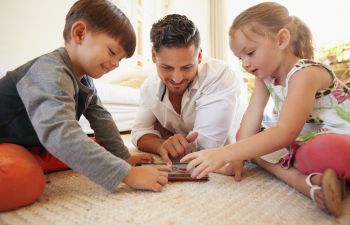 Divorce is difficult for every family, but when the parents have a contentious relationship, it can be difficult to work through the issues concerning the children. In these cases, one suggestion is to develop a parallel parenting plan; but what does it mean to be a parallel parent?
Parallel Parenting Defined
Parallel Parenting is a way to reduce communication between the parties in an attempt to peacefully raise the children. This is a solution when the parents do not agree on parenting styles, or if the relationship is too high-conflict. Parallel parents do not attend activities or appointments together, and limit contact to a businesslike minimum. This can be beneficial to the children involved, since the tension will be decreased between the parents.
Parallel Parenting Plan
While no plan will work in every situation, it is possible to draft a parallel parenting plan that will address your concerns and help you thrive in a relationship with your children. A well-drafted parallel parenting plan will include:
Time share with children
Start and end time of visits
Pick up and drop off locations
Contact information for childcare providers
Vacation scheduling
Holidays
Most parallel parents will opt to communicate through a parenting app instead of through their personal messaging app. A parenting app should have a check-in function, as well as an events calendar. The communication through the parenting app can easily be shared with the court should any problems arise.
If you are dealing with a high-conflict divorce situation, it may seem hopeless. The office of Plunkett, Hamilton, Manton & Graves, LLP can help you navigate the divorce and custody process with understanding and care. Contact our office today to schedule your free consultation. We will listen to your concerns and help you get the resolution you and your children need.
Posted on behalf of Plunkett, Hamilton, Manton & Graves, LLP