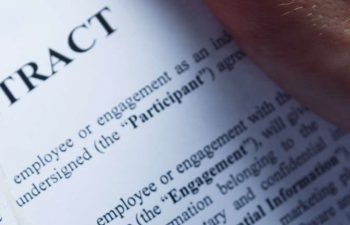 According to FindLaw, a business contract establishes certain obligations that are fulfilled by the parties who agreed. A contract exists when there is an offer and an acceptance of that offer. The contract should clearly state what each party is going to do and the time frame they will do it. A "breach" of contract occurs when one party fails to meet any of its contractual obligations.
Four Main Breaches of Contracts
Material Breach: This breach is when one party fails to perform their obligations under the terms of the contract. The affected party could seek damages in court. The complete breakdown of the material provisions in a contract can be referred to as a fundamental breach.
Minor Breach: This breach is a partial breach and occurs when a party fails to perform a part of the contract but does not violate the whole contract. The affected party could sue for monetary damages or seek to have the problem corrected.
Anticipatory Breach: This breach occurs when one party tells the other party, written or oral, that they will not be able to fulfill the terms of the contract. The affected party can immediately sue for breach of contract without waiting for the breach to occur. This breach is also referred to as anticipatory repudiation.
Expert Breach of Contract Attorneys in Augusta
A skilled and knowledgeable attorney can represent their client in court, make them aware of the laws per state regarding breach of contract, and meet the filing dates necessary for the client's situation. If you feel that another party has failed to honor their contractual obligations or have been named in a breach of contract lawsuit, consult with an experienced attorney at the law office of Plunkett, Hamilton, Manton & Graves, LLP. Call today if you are in the Augusta and Evans areas to schedule a consultation.
Posted on behalf of Plunkett, Hamilton, Manton & Graves, LLP