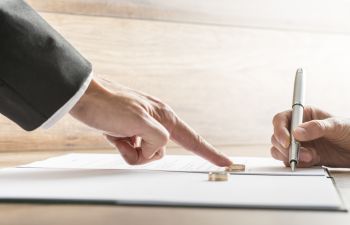 Divorce is a difficult time for everybody involved. Some of the challenges of breaking up may come as unexpected. However, to ensure that the process goes smoothly, mediation and legal representation are recommended.
From assets to childcare responsibilities, there are several considerations for divorcing spouses. There is no doubt that this is a significant life experience, but there are ways to limit your stress. An experienced divorce lawyer can help you navigate the legal landscape.
Dividing Assets
In simple terms, the assets that you owned as a couple will play a pivotal role in your divorce. How these assets are divided can cause controversy and disputes. For most divorcing couples, dealing with financial issues amicably is preferred.
A divorce lawyer can provide guidance, mediation services and legal representation depending on your circumstances. If you are locked in a legal dispute with a spouse, call Plunkett, Hamilton, Manton & Graves, LLP today. We have the experience you need to take the stress out of your divorce.
Childcare Responsibilities
When a couple split up, children are often caught in the middle. Ensuring that your kids benefit from time with both parents can help reduce the impact of divorce. While certain circumstances do not make such relationships possible, Plunkett, Hamilton, Manton & Graves, LLP will do everything we can to help you come to amicable agreements.
Our divorce lawyers have experience in helping discontented couples find resolutions to disputes. We offer impartial advice based on our extensive legal knowledge and what worked in past cases. At all times, you can feel assured that we are fighting your corner.
Georgia Divorce Lawyer
Dealing with divorce is always difficult. You may face many legal challenges along the way, depending on the nature of the previous relationship. It is our hope that both adult parties do what is right. However, as your representative, our focus is on you and your rights to assets and other divorce-related awards.
Every divorce is different. If you are basing your experience on that of a friend or relative, it could cost you. Turn to the experts at Plunkett, Hamilton, Manton & Graves, LLP for representation and support.
Posted on behalf of Plunkett, Hamilton, Manton & Graves, LLP