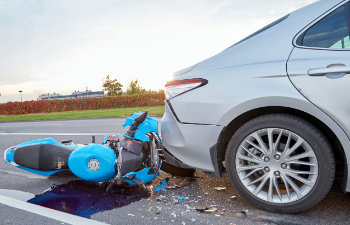 Sunny, dry weather is ideal for a motorcycle ride, which is why you will see more bikes on the road from May through September. While it is a glorious time for riding, summer is also the most dangerous time for motorcyclists. If you are heading out on the road this summer on your bike, you should be aware of the dangers on the road and take precautions to protect yourself from injury accidents.
August is the Deadliest Month for Motorcyclists
According to the National Highway Traffic Safety Administration (NHTSA), August is the most dangerous month for motorcyclists. There are more fatalities in August than any other month, most likely due to the number of motorcyclists on the road. The safest month is January when fewer bikers are on the road. Every year thousands of motorcyclists lose their lives, and many more are injured, often due to negligent drivers on the road. Some of the statistics provided by NHTSA on motorcycle safety from 2020 include the following:
5,579 motorcyclists died in accidents
82,528 motorcyclists were injured in accidents
192 motorcycle fatalities occurred in Georgia, which is 12% of vehicle fatalities
Per mile, motorcyclist fatalities occurred 28 times more frequently than occupants of passenger cars
97% of motorcycle accident fatalities occurred in dry weather
When heading out on the highway, it is essential for motorcycle riders to be aware of the dangers on the road. While you cannot prevent all accidents, there are ways to reduce your risk of serious accidents and injuries.
Motorcycle Safety Tips
Riding a motorcycle comes with an increased risk of serious injury. Unlike cars and trucks on the road, you have nothing between you and the road to protect you from harm. You cannot control the other drivers on the road, but you can practice motorcycle safety to reduce your risk of experiencing a serious motorcycle accident or, worse, a fatality.
Be licensed. 36% of motorcycle fatalities in 2020 were riders without a license. Make sure you have passed the state requirements and have a license before you begin riding.
Wear a helmet. Georgia requires all riders to wear a helmet, which is the best way to prevent traumatic brain injuries or death in a motorcycle accident.
Do not drink and ride. A higher percentage of fatalities were impaired motorcyclists versus any other type of driver on the road.
You can decrease your risk of serious injury by practicing motorcycle safety, especially during the summer when so many drivers and riders are on the road. However, even the safest rider can encounter dangerous drivers that cause accidents on the road. If you are injured in a motorcycle accident in Georgia this summer, contact our legal team at Plunkett, Hamilton, Manton & Graves, LLP. We offer free legal consultations for victims injured in motorcycle accidents due to negligence. Call our office in Augusta, GA, to discuss your injury claim.
Posted on behalf of Plunkett, Hamilton, Manton & Graves, LLP