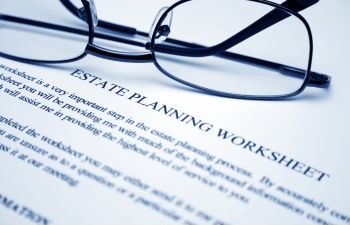 Though many assume that estate planning begins and ends with a last will and testament, there are numerous responsibilities and tasks that an estate-planning attorney takes on. This includes drafting living trusts and developing plans to mitigate or avoid estate taxes. The estate-planning attorney also handles one's life savings and assets, specifically making sure that these are safe from creditors in the event that a person dies. From preparing power of attorney and health care directives to making arrangements for a person's care or helping individuals avoid guardianship issues, a qualified estate planning attorney provides an array of services that are tailored to individuals and families.
Without question, when seeking assistance with estate planning, it's important to look for an attorney with the specialized knowledge and experience needed to work with your unique situation. This particular area of law requires constant attention to changing laws and other requirements that could affect the validity of your plan. In turn, make sure that your exact expectations and needs are communicated well. This requires a trusting relationship in which you can share the most personal details of your life, so that these are not overlooked in your estate plan.
No matter the "size" of your estate, proper planning can make a considerable difference for family members in the event that something unexpectedly happens to you. Unfortunately, telling a close family member what you'd like to happen after you die is not enough, and these wishes are easily up for debate. While estate planning is an investment, there is security in knowing that your loved ones will not be left with the cost of estate taxes or caught up in a stressful probate process.
You Will Never Regret Planning For The Future
Whether your situation is complex or not, the estate planning attorneys at Plunkett, Hamilton, Manton & Graves, LLP know that you will never regret planning for the future. That's why we take ample time to sit with you and understand your personal needs and wishes, drafting a plan that will help protect your loved ones from the confusion and heavy expenses associated with your affairs.
Call Plunkett, Hamilton, Manton & Graves, LLP, today to schedule a consultation.
Posted on behalf of Plunkett, Hamilton, Manton & Graves, LLP