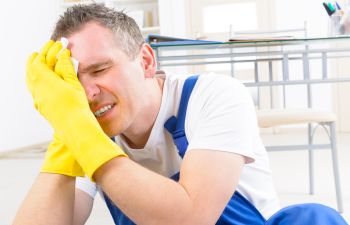 If you get injured at work or while performing a task for work, you are likely eligible for workers' compensation. Workers' compensation benefits are paid for through insurance employers must carry on their employees. Compensation can include wages, health care and rehabilitation costs as the injured party returns to the workforce, if possible.
How Do I Collect Workers' Compensation in Georgia?
If you're injured on the job, the first thing you need to do is receive medical care, if needed. After that, you need to report the situation to your employer ASAP. Include the details of what happened. If your employer has any required paperwork in the event of an injury, fill that out completely, being specific.
If you file a workers' compensation application, you must see a doctor authorized and approved by the Georgia Workers' Compensation Law. It may be possible to see your regular doctor, but you will not receive any benefits if you don't go to their authorized and approved doctor. You may also want to see your own doctor, but any treatment, medication or official visit must be on that approved list.
Why Would I Need an Attorney on a Workers' Compensation Case?
On-the-job injuries, especially when the injuries are severe, and workers' compensation can elicit serious litigation, and you need a professional on your team. You need an attorney to keep your best interests at the forefront. In addition, an attorney who is seasoned in workers' comp cases knows how to work to see that your future medical needs from the injury will be taken care of and paid for through the insurance.
You need an attorney who is empathetic to your situation and tough in the courtroom to help you receive appropriate rehabilitation, both physical rehab and career rehabilitation. In addition, you need an attorney to fight to protect your rights, including rights to fair compensation, medical care and rehab.
If you're injured on the job, don't lose out on compensation, medical care and rehabilitation you might need. At Plunkett, Hamilton, Manton & Graves, LLP, we are experienced and knowledgeable about Georgia Workers' Compensation laws and will work to get you the best possible outcome. To find out more about your situation, please contact our Augusta, GA, office.
Posted on behalf of Plunkett, Hamilton, Manton & Graves, LLP