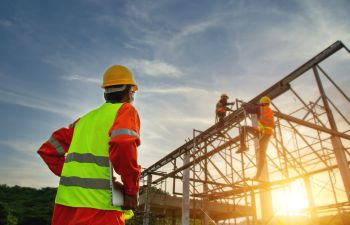 Construction work is laborious and not without its hazards. When you are working on a site, wearing a hardhat and any other applicable protective gear is recommended. It is also important to learn and adopt safe working practices. However, all the precautions in the world could mean nothing if there are workplace hazards.
A construction site is necessarily dangerous, in that the equipment used and nature of the work carry inherent risks. Powerful tools can maim or even kill if used incorrectly or poorly maintained. Inadequate safety practices are also responsible for a large number of injuries on construction sites.
Falling Injuries
There are three common types of accidents on construction sites that involve falling. Heavy or sharp objects falling from a height can cause serious injury or death. Similarly, lack of safety provisions can result in workers falling from a height. Tripping hazards are a major contributor to accidents and may result in minor to severe injuries.
Faulty Equipment
Site managers and certain contractors are responsible for ensuring equipment is safe. If a worker is injured by a defective or poorly maintained tool, one or more individuals may hold liability for the accident. Common injuries include cuts, burns and broken bones. Regular testing can ensure that equipment is fit for purpose and does not present an unreasonable risk to workers.
Vehicle Injuries
Untrained or unlicensed drivers on construction sites could cause serious injuries to themselves or others. Forklift trucks, cherry pickers, bulldozers and excavators are just some examples of vehicles that require specialist skills to drive and operate. These vehicles are heavy and typically include external moving components. Safety protocols should be implemented any time that vehicles are used in or around a construction site.
Workers & Personal Injury Compensation
If you have been injured on a construction site, you may need legal advice on Workers Compensation or a personal injury claim. At Plunkett, Hamilton, Manton & Graves, LLP, we are passionate about protecting the best interest of our clients.
Call our Augusta offices today to inquire about a free consultation about your case for compensation in Georgia.
Posted on behalf of Plunkett, Hamilton, Manton & Graves, LLP