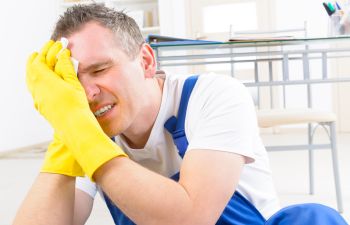 By way of the workers' compensation system, injured individuals have a right to receive compensation and medical benefits following an injury sustained while performing their job. Yet, the principle behind workers' compensation is that it provides a benefit for the employee and the employer. For instance, when a worker is injured on the job, he can receive workers' compensation benefits in exchange for relinquishing his right to sue his employer, as noted by Wikipedia. Thus, workers' compensation provides protection for employers while providing tangible benefits for injured employees.
Consider the following frequently asked questions about workers' compensation.
If I am injured at work, what should I do?

When an accident occurs on the job, it's important to report it right away, even if you do not suspect that you are hurt. This is important for two reasons. First, there is a window of time in which to report workplace accidents. Second, injuries often do not appear until some time after the accident.

Does workers' compensation cover work-related injuries that have not occurred due to an accident on the job?

Surprising to some, workers' compensation does provide benefits to employees that have suffered injuries relating to their job that are not the result of an accident. One common example is carpal tunnel syndrome, which is a repetitive motion injury.

The accident was my fault. Can I still receive workers' compensation benefits?

Yes. However, if an employee resorts to self-harm or is under the influence of a drug or alcohol when an injury occurs, he or she will not be eligible for benefits. On the other hand, workers' compensation is a system that releases employees from having to prove who was, or was not at fault.

I would like to see my own physician. Is this possible under workers' compensation?

Laws vary across state lines when it comes to choosing one's own physician or doctor. It also depends upon specific requirements from the employer's insurance carrier.

Do I need an attorney to help with my workers' compensation claim?

As a rule, the greater your injuries, the more that's at stake in regards to your workers' compensation claim. Therefore, it's always a good idea to obtain the services of a qualified attorney to ensure that you receive the benefits that you are entitled to under the law.
For more information concerning workers' compensation, visit AllLaw.
Experienced Team of Workers' Compensation Lawyers Serving Augusta And Evans, GA
Filing for workers' compensation can be complex. That's why the attorneys at Plunkett, Hamilton, Manton & Graves, LLP, are dedicated to helping victims and families recoup the benefits they need following a workplace accident or injury. If you reside in Augusta or Evans, Georgia, and are looking for an experienced team of workers' compensation lawyers, call Plunkett, Hamilton, Manton & Graves, LLP, today.
Posted on behalf of Plunkett, Hamilton, Manton & Graves, LLP