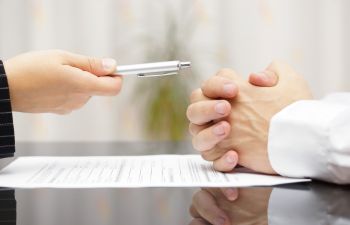 Chances are, you've heard the phrase "on their deathbed," which usually refers to someone that is terminally ill and near death. Depending on the circumstances surrounding an individual's illness, as well as family dynamics, he or she may be without a formal will to divide his or her assets at the time of death. When this is the case, a deathbed will might be drafted. Yet, the truth is—deathbed wills can be risky, because they are typically composed quickly, leaving room for error and questioning from frustrated beneficiaries.
To better understand, when a will is drawn up properly, it requires the attention of a qualified estate law attorney. In this case, the attorney guides family members in drafting a legally sound document that is solid and clear. An attorney also takes into account federal estate taxes and specific strategies to minimize or eliminate payment of those. On the other hand, when a will is drawn up quickly, taxes such as these might be completely overlooked. In other cases, a deathbed will may lack proper signatures and may not meet legal requirements at all.
For the most part, when a family member is facing imminent death, and a will must be updated or drafted for the first time, the chief concern of most family members is the mental competency of the person or testator. In other words, if a will is going to be challenged or contested, it always seems to come back to the person's mental capacity.  As defined by the University of Georgia's Cooperative Extension, capacity means that the person must be of sound mind and memory and understand what they are doing, which is dictating how their property will be distributed when they die.
Given that different family members have different interpretations of one's mental capacity, it's easy to see why deathbed wills are questioned.
Your Augusta And Evans, GA Wills And Probate Attorneys
In creating a will, you can trust Plunkett, Hamilton, Manton & Graves, LLP, for a thorough investigation into your best interests and future. As your Augusta and Evans, GA wills and probate attorneys, we provide active and diligent advisement on creating simple wills, estate administration, intestate, guardianships, living wills, advanced medical directives, fraudulent induced wills and disputes, as well as power of attorney and general powers of attorney.
For a free consultation to discuss the particulars of your case, call the legal team at Plunkett, Hamilton, Manton & Graves, LLP today.
Posted on behalf of Plunkett, Hamilton, Manton & Graves, LLP