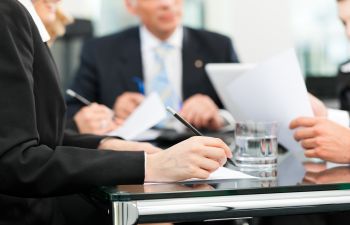 With great motivation and a shared vision, business partnerships are exciting, especially when things are going well. However, when there are disagreements, or when the newness wears off, some friends turned partners find themselves at dangerous odds. Business News Daily reports that issues with money, as well as operational concerns and intellectual property are three common business disputes. Legal Match lists additional issues, including:
Breach of Business Contract
Violating a Non-Compete Clause or Similar Contract Terminology
Unauthorized Disclosure of Confidential Information Related to the Business
Violations Related to Insider Trading
Breach of the Business Partnership Agreement Itself
With these in mind, how can one navigate a business dispute effectively? In some cases, when courts are involved, the business partnership agreement might need to be reviewed. This helps clarify the rights and responsibilities of each person or partner. Depending upon what's at stake, an expert witness might be consulted to help determine liability. Moreover, a monetary damages award could be offered for the non-breaching party. Therefore, there are several ways in which a business dispute can be resolved.
Even so, given their complex nature, disputes is in the business world often include legal issues that are difficult to define in the context of the partnership. For this reason, it is wise to consult a business disputes attorney to ensure that the proper tools and resources are available to help navigate a case. A qualified attorney can also represent a business or person in court, and provide insight into state-specific laws that govern how disputes are handled in a particular city or region.
We'll Develop A Personalized Legal Strategy To Resolve Your Business Dispute
At Plunkett, Hamilton, Manton & Graves, LLP, we realize that partnership and business disputes can become personal when one is attacked or questioned. We also understand that these disputes can profoundly affect the success of a business or venture. To help individuals and stakeholders work through complex affairs and disagreements of their partnership, we develop a personalized legal strategy that is honest, yet fierce when it needs to be.
To discuss the details of your business dispute, please call Plunkett, Hamilton, Manton & Graves today.
Posted on behalf of Plunkett, Hamilton, Manton & Graves, LLP