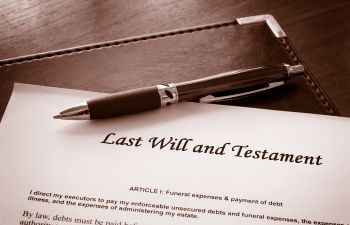 The death of a loved one can be a difficult time for family members. Emotions can deepen rifts among siblings, especially when money is involved. One party may choose to contest a will because of the way assets may be distributed. Depending on the county in Georgia, the process for contesting a will must be started within 10 to 13 days after probate begins. Contesting a will can be a difficult process unless sufficient evidence can be given for the court to disregard it. Here are three legal reasons to contest a will in Georgia.
Incapacity
A will may be contested in Georgia if it can be proven that the deceased person was incapacitated at the time they signed the will. This means that the person was incapable of understanding what they were signing due to severe mental illness, dementia or substance use. If this situation can be proven, the court may require a new drafting of a will or an amendment.
Excessive Influence or Fraud
Another common legal reason to contest a will in Georgia is excessive influence or fraud. If a person signed a will while given misleading information or while coerced or threatened, it may make the document invalid. A family member spending significant time with an aging loved one may be able to manipulate benefitting from a will without realizing what they are doing is wrong. When addressing your own estate planning, it may be wise to not inform anyone of its contents before or after it is signed.
Georgia Will Forgery
A valid will in Georgia requires a signature of the person who made the will in the presence of two witnesses. These witnesses should not be beneficiaries. Contesting the will may be considered by the court if the document was signed by a family member or caregiver.
Legal Help for Georgia Wills
The best way to prevent a situation where a will may be contested is through proper estate planning. The experienced attorneys at Plunkett, Hamilton, Manton & Graves, LLP can help you draft a will to secure your family's future according to your unique circumstances. Call today to schedule a consultation.
Posted on behalf of Plunkett, Hamilton, Manton & Graves, LLP